On February 22, Nike released its newest product, the Nike+ FuelBand - a wristband that tracks your daily activity. It retails for $149.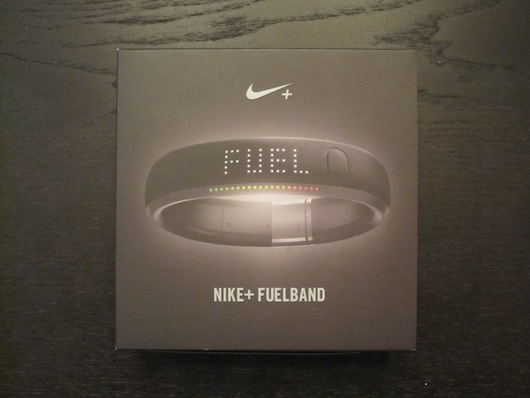 The idea is to encourage people to become more active through goals and positive reinforcement. I have been a Nike+ advocate for several years, so I thought I would try the FuelBand. Here are my thoughts after a couple weeks of use.
Contents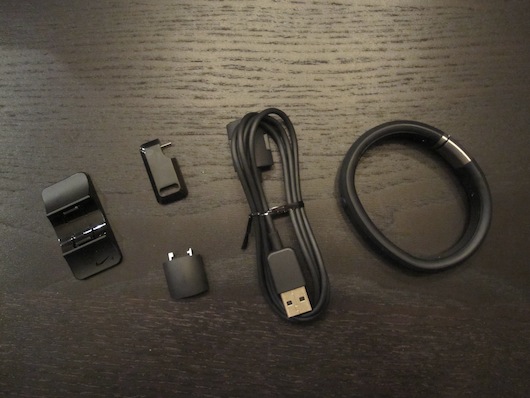 The package includes the following: Nike+ FuelBand, sizing extenders (0.32 in and 0.63 in), a sizing tool, a USB charging cable, and a USB stand.
Features
The FuelBand contains a three-axis accelerometer that measures your motion in space. Using a proprietary algorithm, Nike correlates that motion with oxygen intake. That information is then used to calculate a universal number for users to track - fuel. Users then create a daily goal for the amount of fuel they want to earn.1
In addition to fuel, the band will track duration of activity and calculate estimated steps, distance traveled, and calories burned.
There are limitations to the FuelBand's capabilities. Since the it relies on an accelerometer, activities in which a person's arm remains stable are not accurately tracked. For example, riding a bicycle, doing pushups, or certain weight lifting routines. It also does not offer GPS-based run tracking2 or heart rate monitoring.
Build
The FuelBand is made with soft rubber and features rounded edges. The result is an extremely comfortable device. One can easily forget they are wearing the band.
The display consists of 120 LEDs whose brightness is controlled with an ambient light sensor. The band will show a user's fuel, steps, calories burned, progress to reaching the daily goal, and the time. That carousel of information is controlled via an unobtrusive button on the front face.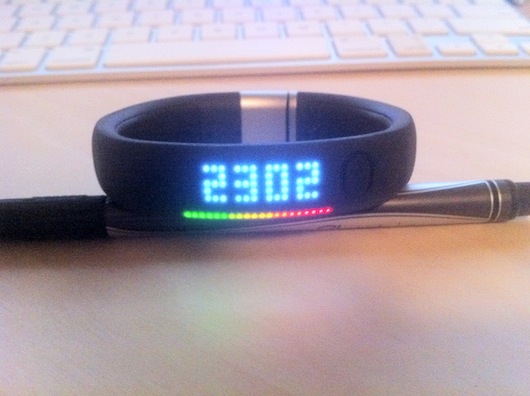 One end of the latch is actually a hidden USB plug. The charging cable connects to the band and can be used to transfer data or charge the device. While thin, the USB arm is extremely sturdy.
Nike claims that the FuelBand can operate up to four days on a single charge. This is in line with my own experiences. Generally, I had to charge the FuelBand on the fourth day of use. That is to say, battery life was never really a concern.
The FuelBand comes in three sizes: small (5.79" circumference), medium (6.77"), and large (7.76"). These sizes are easily adjusted using the included links.
Overall, the device is extremely lightweight with great build quality.
Syncing
Nike offers two ways to sync activity data with your Nike+ account. The first is via USB with the free desktop FuelBand app. It simply detects the device and uploads the data to Nike. Users are then directed to the FuelBand website where they can view the data. The site displays single days, cumulative totals, trophies earned, and personal records.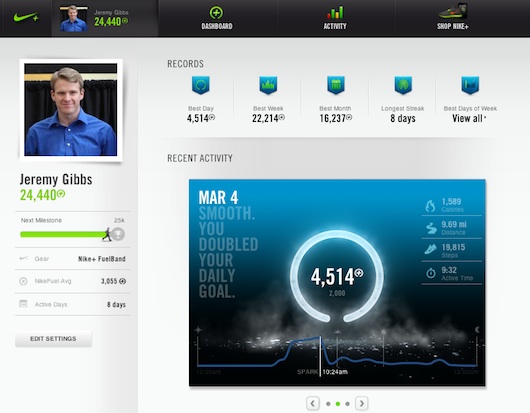 The second method is via Bluetooth with the free iOS FuelBand app.3 After an initial pairing process, the band will sync with the simple push of a button. In addition to displaying the current day's activity, users can view all of the information available on the website and easily share their progress on Twitter or Facebook.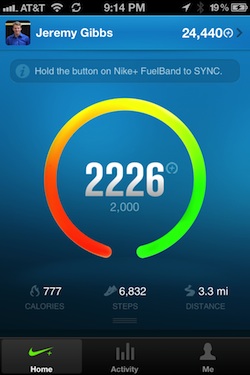 Impressions
Let's start with the negatives. Firstly, it is pricey at $149 - however, I will later explain why I found it worth the money. Secondly, I found the accuracy of the estimated distance to be lacking. For instance, this weekend I went on a 10-mile walk with my wife, yet the FuelBand reported a daily distance of only 8 miles. Thirdly, and perhaps related, is that stairs are not accurately handled. As an example, walking from the first to fifth floors at work resulted in a step count that was only one-third of the actual number taken. I suspect that Nike is still fine-tuning their accelerometer algorithms and will release fixes in future firmware updates.
Despite these drawbacks, I am overall pleased with the Nike+ FuelBand after a couple weeks of use. The FuelBand is extremely lightweight and comfortable, as opposed to other similar devices that are bulky and awkward to wear. The device is easy to use and syncing is simple. Users are presented with beautiful and fun feedback that encourages activity.
Perhaps the best evidence I can offer for the use of the FuelBand is anecdotal. Working with computers everyday, I have a very sedentary job. I have to make a concerted effort to reach my daily fuel goal. Last week, I was still 400 short of my goal at 9 p.m. In the past, I would have been content with watching television, but instead my wife suggested we go on a walk so that I could reach my goal. So we went out and walked around the neighborhood for almost an hour. Not only did I exercise when I normally wouldn't have, I was able to spend quality time with my wife that might have otherwise been wasted on television or the internet.
That takes me back to the price. One the face of it, $149 seems expensive for what you get - an activity monitor that tracks steps, estimates calories burned, and displays time. You might be tempted to call it a glorified pedometer. However, for myself, the Nike+ FuelBand has proven its value.
The main reason is that the device has encouraged me to increase my daily activity and get outside. It shone a light on how little I might do otherwise. Sure the device is high quality, but the ancillary perks are of equal value. Nike has really created an awesome integrated workout environment with Nike+ and the FuelBand. The attention to aesthetic, detail, and user interaction has led to a great experience.
Plus, I trust Nike much like I do Apple. If something goes wrong, I am positive they will make it right. More importantly, I am confident that this isn't a fly-by-night venture meant to squeeze money out of people. Nike has shown a commitment to their Nike+ ecosystem and it is apparent that they are planning for the future. That peace of mind is worth the money alone.
Recommendation
When considering whether to buy the FuelBand, you must remember what purposes it does and doesn't fulfill. It is not a fully-inclusive health system that will monitor your heart, track your GPS coordinates, and make you lunch. It is designed as a subtle encouragement to remain engaged in life. By using a universal activity metric, everyone can compete with one another. More importantly, it forces you to compete with yourself.
If you can afford $149 and would like a way to challenge yourself, I suggest giving the Nike+ FuelBand a try. Personally, I recommend using it in conjunction with their $1.99 Nike+ GPS app and immerse yourself in the Nike+ ecosystem. Oh, and get active!
---
2,000 is considered a normal day while 4,000 is an active day. ↩︎

The Nike+ GPS app serves this purpose. ↩︎

Nike is currently working on an Android version. ↩︎