TL;DR
I turned 33 on March 22. To celebrate, I will move my body 33 miles on April 29 with a goal to raise $3333 for Teen Recovery Solutions (TRS). I need your help, so I request that you sponsor my run with a donation to TRS. Visit the TRS donation page before April 29 and enter gibbs33 in the Donation Note box (see below for what this looks like). This code will allow TRS to track our progress. Please consider sharing this page so that we can reach our goal.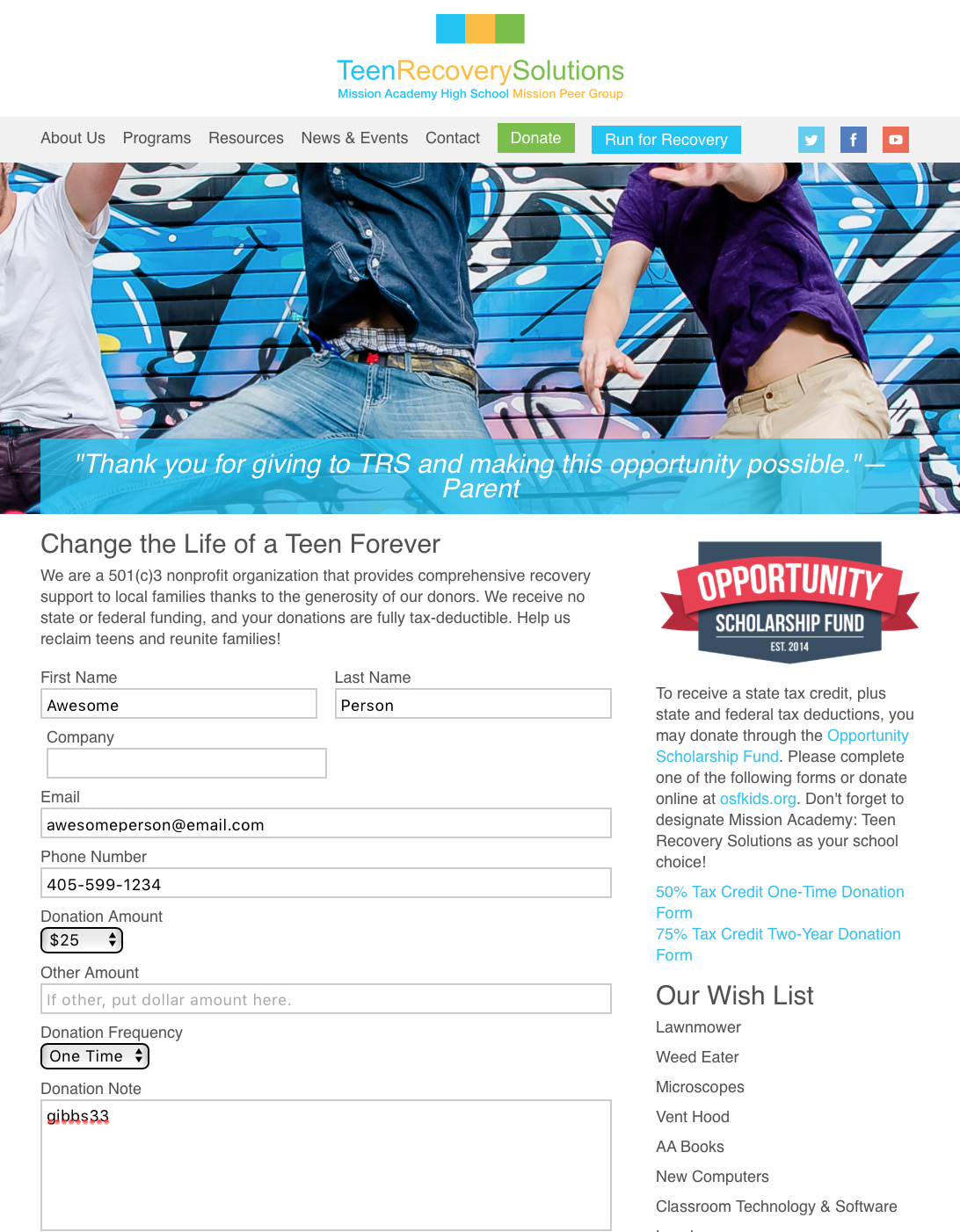 Read below for more details and follow me on Twitter or Facebook for updates.
Motivation
I turned 33 on March 22. Last year I realized that I no longer cared about receiving gifts. I found that it is far more fun trying to express appreciation for those who make life better for others. As I said last year, I was raised with the idea that when people invest in you and your dreams, you should act in kind when possible.
I want to do something meaningful for my birthday and I need your help. As I wrote earlier this year, I love walking/jogging/running because it allows me time to think. Once again, I want to raise money for a worthy cause in exchange for a long walk/jog/run. This year I want us to all help Teen Recovery Solutions (TRS).
Why Teen Recovery Solutions?
I spent the first 31 years of my life in Oklahoma. It is my home. I saw firsthand in junior high and high school how addiction can negatively impact people's lives. Unfortunately, society often allows these people to fall through the cracks. Based on data from the Office of Adolescent Health in the U.S. Department of Health and Human Services, 5% and 4% of Oklahoma high school students aged 12-17 needed, but did not receive, treatment for alcohol and illicit drug abuse, respectively, in 2009-2010. From 2011-2013, Oklahoma had the 14th-highest rate of youth drug overdose deaths in the nation. That rate represented a 300% increase over the preceding 12 years. If we all believe in the Oklahoma Standard, then these statistics are not acceptable.
TRS has provided long-term addiction recovery tools for Oklahoma City teens and their families since 2000. TRS began by offering financial assistance to qualifying parents unable to afford the high cost of residential treatment programs. Upon seeing how many teens relapsed into abuse after they returned to their home high schools, TRS began a recovery high school in 2006. Mission Academy High School is one of only 37 recovery high schools in the United States. In 2012, TRS launched an alternative peer group after seeing the need for a teen recovery community for after-school and weekend support. Mission Peer Group provides teens with weekly and weekend positive social activities, individual and group counseling, family support groups, age-appropriate recovery meetings, and regular retreats. In 2014, TRS added the Real Talk for Teens series to focus on prevention by educating teens about the realities of substance abuse.
Why give to TRS? These teens are our future and helping them recover from addiction is our moral imperative – allowing them to suffer unattended is our shame. If our elected leaders do not prioritize aiding their plight, then let's do it on our own. I want to help organizations such as TRS so that every teen has the opportunity to lead a happy and fulfilling life and every family can rejoice in watching their children prosper.
The Goal
I want to raise at least $3333 for Teen Recovery Solutions. So, 33 miles for my 33rd birthday in an effort to raise $3333. I happen to think this is a modest goal. I believe we can beat that number. Help me make a small dent in the operational needs of TRS. Let us do a good thing.
Can I Do It?
Yes. You can trust that I will honor my commitment of 33 miles. Why? I completed the 2012 OKC Memorial Marathon with my wife through a combination of walking and jogging. In 2016, my wife and I signed up as a team for a run/walk challenge and I completed 1600 miles. Last year I successfully completed 32 miles for Oklahoma Foster Wishes for my 32nd birthday, where we raised very close to our goal of $3200. More importantly, my friends and family will tell you that I am notorious for setting crazy goals and seeing them through.
Life is short. 33 miles is even shorter.
Details
I plan to move my body 33 miles on Saturday, April 29. That will give me 4-5 weeks to get in better shape and to collect donations.
I never concern myself with speed. My knees are getting old enough that running the whole time is unlikely. I prefer a deliberate walk and jog. I am not an athlete, so do not expect world record speeds. I estimate that it might take me 7.5-9.5 hours. Last year, I finished 32 miles in a little over 8.5 hours.
Donate
I need your help to make this happen. Every donation matters, no matter how small. I worked with TRS to create a tracking code for our effort. Here is how to donate1:
Visit the TRS donation page
Fill out the web form and select a donation amount.
Be sure to type gibbs33 in the Donation Note box.
Please Share
I would appreciate if you would share a link to this page.
Keep Updated
TRS will update me on the status of donations every week. Follow me on Twitter or Facebook to keep up with our progress.
Thank You
Your donation will help TRS improve the lives of teens in Oklahoma. I am very thankful for your support.
---
Note, this donation is tax-deductible if that is something that matters to you. ↩︎