"Technically, I am going to be eight next year. But I still feel like I am six."
I asked my son Everett how it felt to be seven years old and his response was on-brand: always looking ahead to the next thing to conquer, while remaining grounded in the present.
Seven years ago yesterday, I was a post-doctoral researcher working on a problem with my now colleague Dr. Lou Wicker. I left work to attend a final check-up before our son was due to be delivered. It turned out that his mom was already in labor, so she was admitted to the hospital. In what now seems funny, I matter-of-factly emailed Lou to naively tell him I would have to get back to him in a week because we were having a baby. Dear reader, I did not get back to him.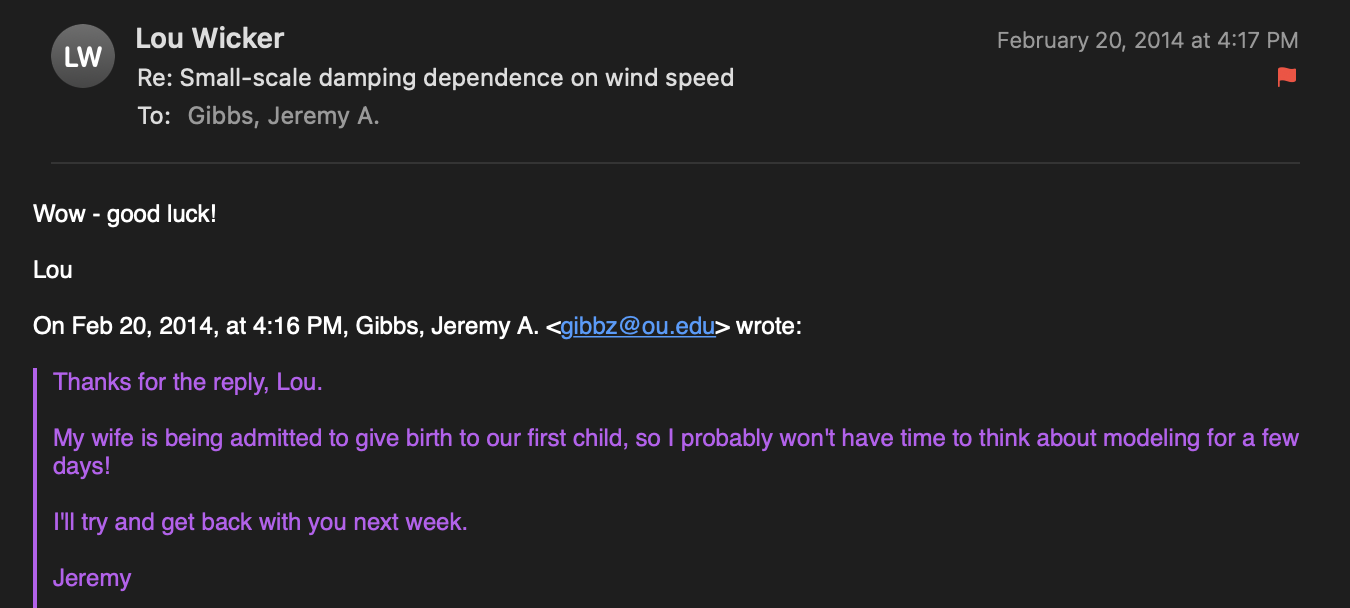 Everett made his mom work really hard, but he eventually joined us the next morning at 4:45a on February 21. It was at that time I assumed the best role I have ever held—dad. I remember watching his birth and not feeling sparks of magic or fireworks of fatherhood, but rather a general sense of being overwhelmed with awe. Even when holding him for the first time, it did not feel real. But real it was, and he was the most beautiful thing I had ever seen. While I am naturally a guarded person, I have walked around with my heart outside of my own body every day since.
When it was time to leave the hospital, I was tasked with driving Everett home since we had taken separate cars and I had the car seat. I have never driven more slowly or carefully than I did that day. Every bump ahead or fellow driver was a potential enemy of my new son and I would have none of it. When I arrived home, we put him in a mamaRoo infant seat so that we could bring in items from the hospital. I stopped and looked at him, and in that moment felt the combined weight and happiness of my new reality—my goodness, I am in charge of another life!
As I wrote on my youngest son Campbell's recent birthday, it has been a tough past year, due in part to COVID-19. Everett had enjoyed most of his first year of kindergarten in 2019-2020 before the virus relegated him to virtual learning, where he has remained into the first grade. He misses going to the science museum, getting pancakes at IHOP, and seeing his teacher and friends in the school building. He has persevered with the relentless enthusiasm and self-motivation of youth. I wish I was as strong as he has been in the face of our weird new reality.
Everett continues to grow and learn at a pace that makes it impossible for me to ignore the passing of time. To have held a new life on their first day of existence, and then have that life read books to you, explain math, and legitimately beat you at Mario Kart seven years later is surreal. Everett's emotional intelligence is just incredible to me. Never a circumstance passes with only his own interest in mind. He always considers how every action impacts others and makes them feel. He does not hesitate to share his own rewards with others if it means they feel better. There are no better words to describe him than genuine and kind. I am so very proud of the little human he has become, and he makes me strive to be the best person I can be.
My son is curious, and no matter how many questions he asks I am happy to respond. There is something special about hearing a sentence begin with "Daddy?", and knowing that it won't always be that way. Seven years have gone by so quickly and I find myself screaming ever more desperately into the void, "Slow down time!" But time cares not, and all I can do is enjoy every moment as best as possible—whether we are building LEGO, playing hide-and-seek, reading stories, enjoying nature, or cuddling up to watch a movie. I want those moments and I want them to never leave my heart even when they leave the everyday.
While I am tasked with helping Everett make his way in life, I doubt he realizes how much he has taught me. I am so incredibly fortunate to have Everett as my son. He has been my "bud" since day one and we have shared so many experiences together. While I am in no hurry for his childhood to pass, I do look forward to what adventures await us next.
After a birthday breakfast today (a healthy assortment of absurd donuts), I told Everett that I loved him and was proud of him. He just smiled and softly said, "me, too."
Don't ever change, man.
Happy Birthday, Everett.